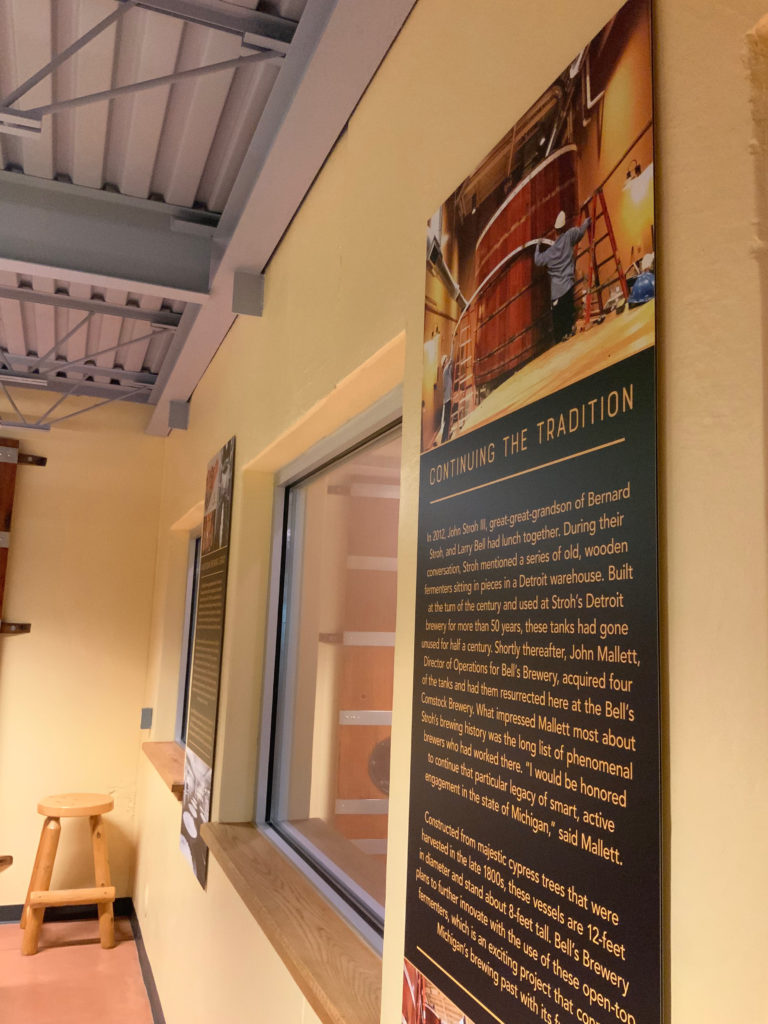 Bell's Brewery, Inc., a regional brewer headquartered in Kalamazoo, Mich., has been making a name for itself since 1985 by brewing quality craft beers in both its Kalamazoo and Comstock, Mich., locations.
While started as a quest by Larry Bell, president of Bell's Brewery, to create a better beer in a 15-gallon stovetop soup kettle, this independent, family-owned business is now the seventh largest craft brewery in the United States, brewing more than 20 craft beers for distribution by Bell's Brewery employees throughout 41 states as well as in Puerto Rico and Washington, D.C.
The Bell's Brewery brand has gained recognition not only through its expanded offerings but with free tours that are offered at both brewery locations, including free samples for guests ages 21 and up. The Bell's Brewery tour has been so well-received that it was named one of the top two in the country in the 2019 USA Today 10Best Readers' Choice travel awards. Bell's Brewery welcomes tens of thousands of guests each year to its pub –The Eccentric Café – and original brewery both located in downtown Kalamazoo as well as through tours at its main brewery in Comstock.
While Bell's Brewery received the USA Today honor in April 2019, management had begun plans much earlier in the year to enhance its brewery tour at the Comstock location through printed visual elements – including a comprehensive historical timeline created with DIBOND® aluminum composite material by 3A Composites USA . The timeline was designed to aid in telling the story of one of the oldest craft brewers east of the Mississippi River.
---
(DIBOND is an aluminum composite material consisting of two pre-painted sheets of 0.012-inch aluminum bonded to a solid polyethylene core – a unique composition that makes it approximately one-half the weight of aluminum. As the flattest panel on the market, DIBOND offers a superior surface for direct digital-printing. It also can be routed and returned to add dimension or roll-formed to deliver sweeping curves. DIBOND offers outstanding durability in outdoor applications and won't bow or oil can.)
Fabrication and Design
Bell's Brewery turned to Agio Imaging, a grand-format imaging provider based in Kalamazoo, to create a turnkey solution from consultation through installation. Agio Imaging prints all sizes of rigid and flexible materials as well as fabricates, installs and often designs projects for display applications ranging from interior branding and décor to corporate and event signage.
Agio Imaging partnered with the brewery's in-house graphic design team to bring brewery tour visual elements to life by offering consulting and design ideas, making material recommendations, discussing hardware options, evaluating the design for manufacturability, conducting site verification, and coordinating the installation with their team, according to Davina Logan, Agio Imaging's director of creative services and client relations.
"We partnered with Bell's Brewery not only to provide the most value but also to ensure that the company's growth and historic milestone achievements were produced in high-quality durable products," according to Logan, who said the project required six months' of planning while fabrication and installation was completed within 3.5 weeks prior to a June 2019 debut.
"Timelines and corporate milestones not only have special meaning to visitors but instill a sense of pride in employees as well," said Logan. "Quality is key when telling our clients' stories. After all, timelines are meant to last many years."
The Bell's Brewery continuous 30-foot by 3.5-foot timeline – filled with historic images, company milestone information and branded graphics – was direct printed on white 3mm DIBOND by Agio Imaging employees with a super-wide format Agfa flatbed UV digital printer using OEM inks. The timeline was designed to be displayed over a 55-foot by 9-foot seamless wall covering mural printed with Bell's Brewery graphics – both installed in a long hallway near the brewery's sampling room.
"We recommended a combination of materials for added depth and texture," said Logan. "The seamless wall covering media offered a canvas texture that contrasted nicely with the sleek, smooth DIBOND panels. Unlike vinyl wall coverings, this wall mural was printed on a10-foot-wide premium canvas wall covering and installed in one seamless piece."
Agio Imaging utilized seven 48-inch by 96-inch sheets of white 3mm DIBOND that were CNC-routed and installed with butted joints to create the 30-foot-long timeline. Blind-mounting hardware was used to secure the timeline to the wall over the mural.
Agio Imaging chose DIBOND for its rigidity and the flatness that it would offer this "long, multi-pane, continuous" timeline design, according to Logan.
"Certain competitive products would have bowed in this application not allowing for perfect high-quality butt joints," said Logan. "Drywall finished walls are not perfectly straight due to the drywall compound used in the seams during construction. DIBOND's rigidity allowed us to span those areas with minimal to no bow in the panels resulting in a superior end product. Additionally, because DIBOND panels route so well, the exposed edges created a sleek, modern shadowed appearance."
---
Agio Imaging chose to flood coat print the white DIBOND panels in black and four-color rather than direct printing black DIBOND panels.
"Our reasoning behind this decision was that we wanted all printed blacks between the various materials to match," said Logan. "We take quality very seriously here – especially when it comes to colors. Because the rigid panels overlaid the wall mural and both materials used black in the design, we wanted to match the black densities along with all of the other colors used in the design seamlessly."
Added Logan: "When we direct print DIBOND, we always get great adhesion to the material. This project had a nice combination of colors in the graphics, and we were able to produce true colors in the images. DIBOND provides durability, a great white point, and structural rigidity."
While the brewery's main objective was to create a company timeline, the project soon grew to include additional tour route signage as well as navigational signage directing visitors to the Bell's Brewery downtown Kalamazoo location, according to Logan.
"The information the client wanted to convey was all handled internally; but, when it came to the vision of what such a wall could look like, the material selection, interchangeable options and installation logistics, that is where we partnered and guided the project from an idea to the tour route signage you see at the facility today," said Logan. "Material selections were based on the existing décor elements in the building as well as paired with the Bell's Brewery brand. Connecting the two brought both the brand and the space seamlessly together."
Tour route signage included two 23.5-inch by 62-inch signs printed on white 3mm DIBOND with the same black flood-coating and four-color printing processes used to create the timeline. These signs were blind-mounted into a poured cement wall overlooking antique fermentation tanks used by the company to brew specialty beer batches. The 12-foot by 9-foot navigational sign was printed on a super-wide seamless canvas wall covering that was installed near the tour's exit.
---
These visual elements have left a lasting impression with Bell's Brewery tour-goers and management, according to Logan.
"This facility previously did not have any tour route signage; it was just a stunning architecturally designed facility that begged for the company history to be incorporated in telling the Bell's Brewery story," she said. "Since the installation, we've received nothing but positive feedback. Local media even did a story about the project . From an internal perspective, the guided tours now help the narrators tell the Bell's Brewery story with visuals that visitors can relate to – keeping their tours not only much more consistent from a story-telling perspective but also much more engaging to the audience. The signage was so well-received that additional tour locations are being considered."
For more information about DIBOND, visit www.3ACompositesUSA.com/display, email info.usa@3AComposites.com or call (800) 626-3365.
---
About 3A Composites USA
3A Composites USA specializes in the manufacturing of leading substrates for the graphic display and architectural markets in North America, South America and Central America. With manufacturing facilities in Benton, Ky., Statesville, N.C., and Glasgow, Ky., and sales and marketing offices in Davidson, N.C., our industry leading brands include: FOME-COR®, SINTRA®, GATOR®, DISPA®, DIBOND®, LUMEX® G and ALUCOBOND®.
About 3A Composites
3A Composites has developed, manufactured and marketed high-quality aluminum composite panels, structural composite material, plastic sheets and lightweight foam boards for architecture, visual communication and the transport and industry markets since 1957. Following the integration of the Polycasa group in April 2015, 3A Composites has extended its product portfolio with a wide choice of plastic sheets to strengthen its position as a diverse and leading manufacturer of materials for display, building and industrial applications. 3A Composites also provides solutions for the wind energy and marine markets.
3A Composites is part of the international 3A Composites Group, which belongs to the listed company Schweiter Technologies headquartered in Horgen, Switzerland. 3A Composites has approximately 4,400 employees worldwide. 3A Composites' well-known brands ALUCOBOND®, DIBOND®, FOREX®/SINTRA®, GATOR®, KAPA®, FOME-COR®,ALUCORE®,AIREX® and BALTEK® are the category leaders in the markets served.
Photos courtesy of Agio Imaging
® DIBOND is a registered of 3A Composites USA.